Today I will talk to you about just one topic.




Petrykivka painting……

my Petrykivka paintings.


I have been engaged in this kind of folklore painting during 20 years.


This is my business card to the world of art. I started the first paintings in Petrykivka style more than 20 years ago and still painting.

This is my paintings in Petrykivka style
Petrykivka painting is one of the oldest types of folk painting in Ukraine.
It originates from the village of Petrikovka, Dnipropetrovsk region,Ukraine.

Separate items remained with this style of painting since the 18th century.
However, in modern style, it was formed in the late 19th and early 20th centuries.
The origin of the Petrykivka painting is associated with Cossacks and the settlement of the Dnipropetrovsk region by people from Poltava, Slobozhanshchina and Podolia.
Samples of painting in this style became popular by D. Yakornitsky and E.Evenbach. They developed in the form of wall painting (,, Malevka ,,) for interior decoration.
They were painted on folk tools, chests, sleighs, seeders. Drawing products in this style finished by varnishing, overglaze and underglaze porcelain painting, glass painting, painting leather wallets. Also, patterns were taken for embroidery blouses and towels.
Now Petrykivka painting was formed as an independent type of decorative graphics and widely spread throughout the world as an  original separate art school.
Petrykivka style of painting is characterized by a floral ornament that continues the traditions of Ukrainian Baroque.
It uses a variety of colors and compositions with various materials and techniques
Can be made with watercolor, oil, gouache, acrylic, tempera with homemade brushes (made from  cat wool) or fingers, pipette, reed sticks on a light, black or colored background.
In January 2013, Petrykovka style painting was brought to the intangible cultural heritage of Ukraine by order of the Ministry of Culture of Ukraine.
On December 5, 2013, the Petrykinka painting was included in the Representative List of the Intangible Cultural Heritage of Humanity (UNESCO)
I bring my little piece in continuation of this style of painting.

My paintings in this Petrykivka style can be found on this website by opening the main page, then at the top center in the middle open CURRENT WORK and open in the middle UKRAINIAN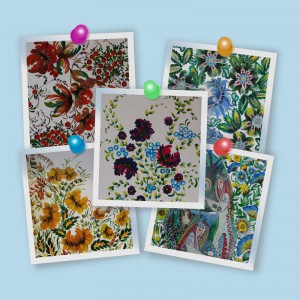 Here I publish a collage of my last works in this Petrykivka style.




I must confess that the paintings began to turn out tender.




Perhaps this is my attitude and love for this kind of art.




I often publish new works on Facebook on my page

https://www.facebook.com/helenpolishukart


You can always subscribe and will be in the subject.




If you have any questions, please write, I will answer with pleasure
contact@helenpolishuk.com