I am sharing great news, friends for you.
,,Angels,, won its second award yesterday.
This is an award at the festival in Munich  New Wave Short Film Festival   and I am proud of it.
The film received an award in the category Religion & Faith .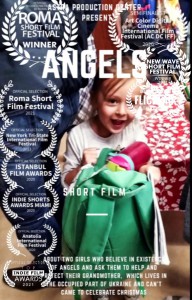 I thank the jury for evaluating the film and am very proud for this award.
When a film is recognized by the jury, it is the greatest joy for the producer, for the filmmaker.
This is a victory for perseverance and creativity, for the set and completed task, for efforts, for motivation, for overcoming difficulties, for the love of cinema.

I would like to celebrate the victory with you and tell you how the shooting took place and show the frame-process of filming.Behind the scene
I already told you about this amazing film
By the way, you can watch it online
https://thinkshorts.com/6788/angels
The film starred a 3-year-old girl Maya, who received an award in the nomination TINY SUPERSTAR  at ROMA SHORT FILM FESTIVAL a month ago.
The girl is really very talented. She remembered text well, behaved perfectly and calmly in front of the camera.
In this video you can see how easy it is for her in front of the camera.This is final shot.Final scene.
There were many interesting moments in the film.
At least the one when the actress was supposed to draw an angel, but did not want to.
I had to give her a ready-made drawing and turn on the TV so that she was relaxed and played herself.
Well, and another interesting moment, for the first time in her life, during the filming , in front of the camera, she took a mobile phone in her hands.
https://youtu.be/1ZQImlznyMM
Before that, her parents did not allow her to play with  mobile phone.
During the filming , Maya picked  mobile and not only took, but she needed a mobile phone to photograph her drawing.
And the  did it !
From the first shot.
For her, it was innovation, discovery and pleasure.
In general, the film was shot easily for me.
Let me remind you, this was my first film.
I have been preparing for its creation for a long time, studied and tried a lot.
Therefore, I am pleased with every victories of this film ANGELS
There is a film screening ahead  at the festival and I hope that soon it will be free to go to the festival as a filmmaker after a year and a half.