Thank you for visiting my website.
Come to my page, do not be afraid.
Open my  new post and read.

Today I will tell you about one photo.#onephotostory.
Rather, it will be a comment about one photo.
Or rather, it will be my tedious reasoning, which I publish here.

So here……..

If you are ready to read the monotonous thoughts of a woman,  you are here.
Today I am not ready to prepare 6-7 pieces  of photos , as I always do, by selection and  publishing a post.
Today, only one photo.
Here it is. ……I am publishing it now….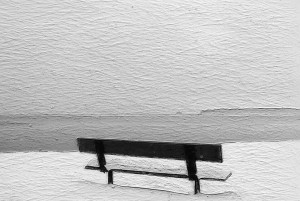 What? You're upset now. What is it?

Why? Well, what to do with this photo?

What do you want to write to us here?

Nothing. Take it easy.
This is just my mood now.

Yes, it's winter outside.
Yes, it's cold outside.
Yes, everything has changed in color, since when I arrived on this land.))

It was green, warm, sunny.
It became cold, frosty and monotonously gray.
In my mind the same color changing.
It is not related to my mood.
Not at all.
I let go.
I relaxed, not to suffer from the problems.
I came to the conclusion that the best condition now is to get relax  in this situation.
And I get it.
I am extremely fruitfully working now to collect as much artistic material as possible,which I lack in Canada.
I attend exhibitions held in Kiev in these months.
I walk a few kilometers every day for healthy body.
I meet people and new places.

I must say that the city is changing very quickly. It is an amazing city. I love Kiev.
Kiev reminds me  the sea.
Imagine the surf…………
This is a wave that is gaining strength.
The wave rolls to the shore.
So, for me, this city is always the same, sandy, gray shore.))
And the waves that roll on him are all sorts of changes, sometimes events, sometimes people, actions……
The waves are rolling. They are trying to change the shore, raking, washing away the sand.
And the shore as it was stay……did not change.
My mood today is like this beautiful bench in this one photo.
All white.
But it is special white.
Not completely white, with colorchanging. It is snow, winter and cold.
And the bench, it's me that this winter has covered with cold and snow.
And whatever I wanted, no matter how I spun … I have to cover myself with this snow … and stand.
Here is my photo today.
Great photo.
Cheer
Your Helen