Do you like to read stories?
I will not wait for an answer, I am writing to you the story of one of my paintings with all its incidents and events ,which happened to it.
First, I created a theme. The topic was a naked woman emerging from the water.
For this image, I took my photo, changing it in a special program for photos.
I liked the idea, I caught on to it very much and quickly sketched the sketch and the picture itself.
When I burn with energy, nothing can stop me.
It's a pity that age reminds myself and six hours of continuous sitting behind a drawing floats out into very swollen feet.I am old.Yes,I am.
I'm already getting old. So I'm in a hurry, that's why I'm open, that's why I do what I can and I want.
I sketched a sketch and quickly drew a picture and upload at Artfinder and Saatchi.

That's how its looked.I named ,,Naked,,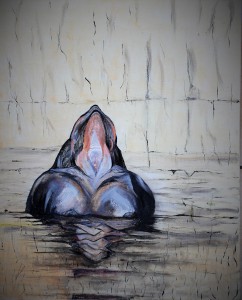 Сохранить
Сохранить